SEO Statistics and Facts 2023
3 min read
As a small business owner in the digital age, understanding the latest SEO statistics for small businesses is crucial.
Search Engine Optimization (SEO) is a key element of your online strategy, ensuring your website ranks highly in search engine results, increases web traffic, and potentially drives sales.
But SEO is more than just a buzzword.
It's a proven strategy that's constantly evolving as search engine algorithms change.
To stay competitive, you need to stay updated with the latest SEO trends.
In this comprehensive guide, we'll explore over 100 of the most relevant SEO statistics that small businesses need to be aware of in 2023.
Importance of SEO for Small Businesses
Before we delve into the statistics, let's quickly recap why SEO is so important.
friends, 93% of online experiences begin with a search engine, and SEO is the tool that helps your business get found within the billions of websites out there.
It's not just about visibility, but also about credibility and user experience.
Now, let's look at the SEO landscape through the lens of the latest statistics.
SEO Industry Statistics
1- Global SEO spending: As of 2023, businesses worldwide are expected to spend over $80 billion on SEO services.
This showcases the high value that companies place on optimizing their online presence.

2- Organic vs paid search: Organic SEO is about 5.66 times better than paid search ads.
Despite this, paid search still has a role in an integrated marketing strategy.
3- SEO vs PPC: 70% of marketers see SEO as more effective than PPC.
SEO delivers more sustainable results in the long term.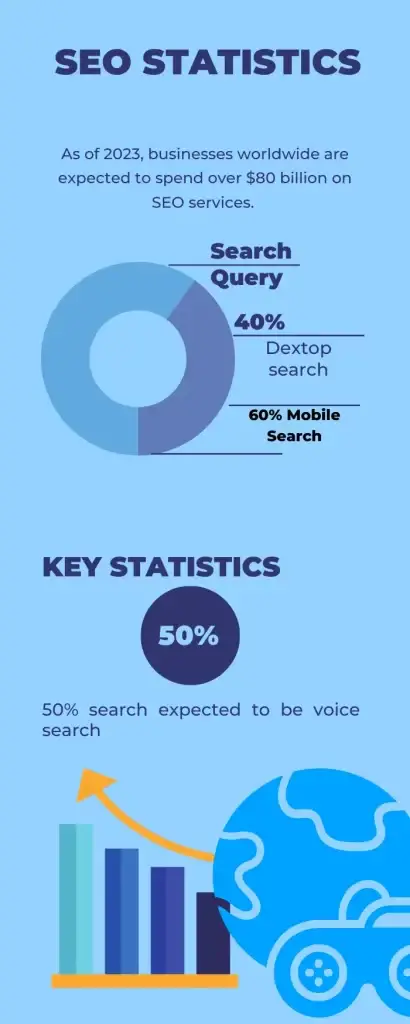 Local SEO Statistics
Local SEO helps small businesses become visible to local customers. Here are some key statistics that underscore its importance.
4- Google My Business: Businesses that verify their information with Google My Business are twice as likely to be considered reputable by consumers.

5- Local searches lead to purchases: 78% of location-based mobile searches result in an offline purchase.
6- Online reviews matter: 88% of consumers trust online reviews as much as personal recommendations.
Mobile SEO Statistics
The number of smartphone users worldwide is expected to reach 3.8 billion by 2023, making mobile SEO a must for small businesses.
7- Mobile vs desktop: In 2023, mobile devices are expected to generate over 60% of organic search engine visits.
8- Page speed: As per Google, 53% of mobile site visits are abandoned if pages take longer than 3 seconds to load.
9- Mobile-first indexing: More than 60% of Google's total index of the web is based on mobile-first indexing.
Voice Search SEO Statistics
Voice search is becoming increasingly popular, with more people using digital assistants like Alexa, Siri, and Google Assistant.
10- By 2023, 50% of all searches are expected to be voice searches.
11- 76% of smart speaker users perform local searches at least weekly, with 53% using them daily.
12- Voice-based shopping is expected to jump to $40 billion in 2023.
Content and SEO Statistics
Quality content is a cornerstone of effective SEO. Here's why.
13- Companies that blog receive 97% more links to their websites.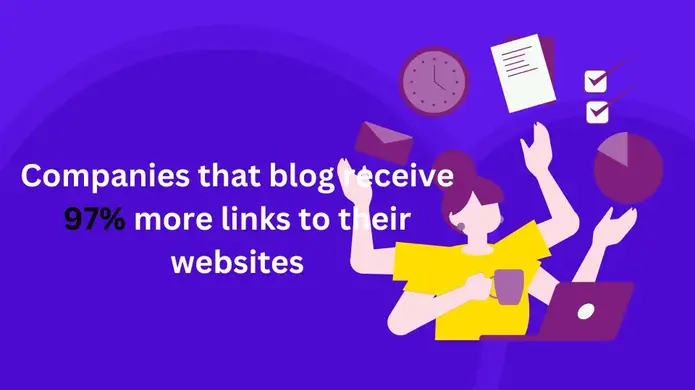 14- Long-form content of over 3,000 words gets three times as many backlinks as average-length content.
15- It's predicted that by 2023, 82% of all internet traffic will be video. Video content can increase organic search traffic by 157%.

User Experience and SEO Statistics
User experience is a crucial aspect of SEO, as search engines prioritize sites that offer a high-quality user experience.
16- A 100-millisecond delay in load time can cause conversion rates to drop by 7%.
17- 85% of people will not continue browsing if a site is not secure. Google also gives preference to HTTPS websites in search results.
18- Pages with a longer load time tend to have higher bounce rates, with 32% more likelihood of bounce when the page load time goes from 1 second to 3 seconds.
Backlink Statistics
Backlinks are a major ranking factor for search engines. Here are some stats to consider.
19- The average web page ranking first on Google has 3,000 backlinks.
20- 65% of marketers agree that link building is the most difficult SEO tactic to perform.
21- Websites with a high number of referring domains tend to rank higher on Google.
SEO Ranking Factors Statistics
Several factors contribute to SEO rankings. Below are some key ones.
22- Google uses over 200 factors in its algorithm for ranking websites, with relevance being one of the most significant ones.
23- The average CTR for a website in the first position on Google's organic search results is 31.7%.
24- The average dwell time for a top 10 Google result is three minutes and 10 seconds.